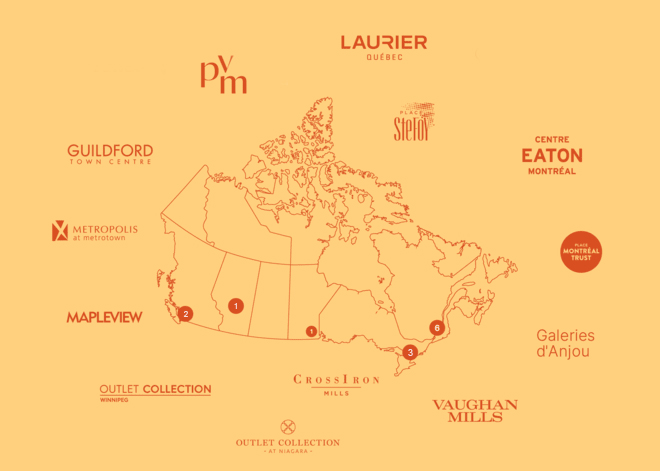 One gift card, a world of options!
Valid in 2,000 stores in 15 Ivanhoe Cambridge shopping centers.
Reward your employees, collaborators and business partners by offering the flexibility to choose where to spend their gift cards.
"I like the mall for its variety. I like the convenience of gift cards. It's a gift that gives the recipient tons of options."
Marilyn Pilarski, Realtor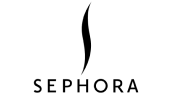 Our corporate program is perfect for ...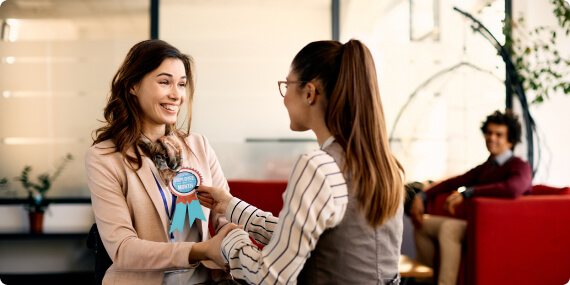 Reward your employees
Provide a simple way for companies to recognize their employees' hard work and celebrate important occasions and milestones.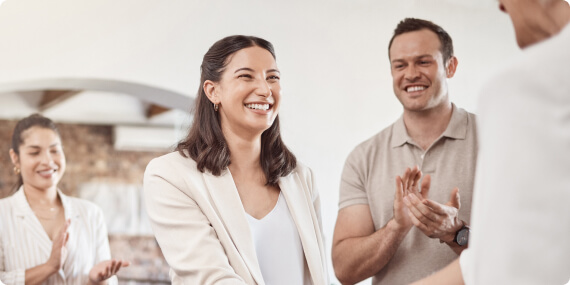 Build customer loyalty
Helps companies acquire new customers and retain existing ones by providing a seamless and personalized appreciation experience.
Free membership
2% discount on transactions of $2,000 or more
Easy and quick purchase
Gift cards and info centralized in your account
Many delivery methods
By email to the recipient on the desired date
With a printable PDF to give in person
As long as you redeem your physical gift card in mall, you and your team are good to go!
Frequently Asked Questions
Who can buy on the platform?
The B2B e-commerce platform is for the exclusive use of approved corporate clients. Non-profit organizations and charities may also be eligible to use the online platform.
How do I get approved to use the platform?
In order to receive access to purchase on the online platform, each business will go through the registration process here. Each application will be carefully reviewed by Ivanhoé Cambridge and a follow-up email will be sent 1 to 2 business days following the reception of the completed form.
What is the process for using the platform and sending e-gift cards?
Approved corporate customers can purchase e-gift cards on the platform and send them by email to recipients of their choice. The recipients will receive a code by email that they will have to exchange at the in-mall Guest Services kiosk for a physical gift card. The physical gift card can then be used at participating retailers in participating Ivanhoé Cambridge shopping centres nationwide. However, it cannot be used as a payment method for online orders.
Do I get rewarded for my purchases? If so, how do I get the reward?
Yes, once you reach the threshold of $2,000 in a single transaction, you will see a 2% discount automatically applied to your transaction.
Where can the recipients use and redeem their e-gift cards?
Once the e-gift card email code is redeemed for a physical gift card at Guest Services, the card may be used to purchase in any of one of the participating Ivanhoé Cambridge's shopping centres. For the full list of shopping centres,
click here
.
What is a 2-step authentication process and what are its advantages?
2-step authentication process is a security measure put in place to protect your personal data. It adds an additional protection by ensuring the validity of the person who connects to a user account. The main advantage is the users' protection against common attacks such as identity theft. Once the 2-step authentication is activated, a username and password combination will need to be provided, followed by a unique code.
How do I connect using 2-step authentication?
The first time you login to our website, you will be asked to set up two-step authentication. To do so, you must enter your phone number and choose your preferred method of communication, either by text message or phone. You can also configure to receive your code by email. Depending on the method you select, you will receive a 6-digit code to enter to complete your two-factor authentication setup. Upon subsequent logins, you will receive your code according to the method you have configured. You can change this method in the security settings of your customer account.
Easy to order
Easy to give
Easy to use